Craig Ferguson and the Folkmanis® Puppets who love him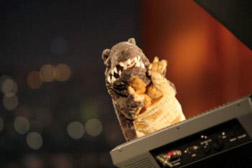 Wavy Is Host of The Show But Where Is Craig Ferguson?
1000th Episode of "The Late Late Show with Craig Ferguson" Goes Puppet Crazy Award-winning Folkmanis® Puppets Designs Exclusive Creations for Milestone Show
(December 11, 2009 – EMERYVILLE, CA) Folkmanis – the most award-winning specialty puppet company in the world – is pleased to announce that their puppets are now stars of the late night talk show, THE LATE LATE SHOW with CRAIG FERGUSON. For more than a year, Ferguson has been using an array of fantastic Folkmanis® Puppets in comedy skits. On Tuesday, December 15th, to celebrate the milestone 1,000th episode, specially created puppets and old favorites will take over the entire show!

"Over the last year, we've had a great time integrating the Folkmanis puppets into the show and both Craig and our audience have loved the addition," says The Late Late Show with Craig Ferguson producer Michael Naidus. "We are thrilled to have the puppets take over our milestone 1000th episode and thankful for the support and creativity from Judy Folkmanis."
Serving as host of the show will be Wavy the crocodile puppet. He will welcome guests Kristen Bell, Maria Bello and Jason Schwartzman.

"I am personally such a huge fan of Craig Ferguson, so I was quite honored that he chose Folkmanis Puppets as an extension to his wonderful comedy" says Judy Folkmanis, creator and founder of Folkmanis. "It's thrilling to see Folkmanis Puppets used in late night comedy. Working in conjunction with The Late Late Show with Craig Ferguson on this amazing milestone show has been an exhilarating experience".
"Folkmanis® Puppets are seen often in film and have recently appeared on television in: Cartoon Network's "Robot Chicken" as well as CBS' "The Young and the Restless", "NCIS," and Comedy Central's "The Colbert Report." The company has been making the most innovative and engaging specialty puppets in the world since 1976. Folkmanis ® Puppets are available at specialty toy and gift stores, including: science/nature museums, zoo and aquarium gift shops, thousands of independent toy and gift stores, and specialty retailers nationwide and in more than 15 countries around the world. You can also find Folkmanis® Puppets online at www.folkmanis.com.
THE LATE LATE SHOW with CRAIG FERGUSON regularly airs weeknights 12:37-1:37 a.m., ET/PT following broadcasts of the "Late Show with David Letterman" on the CBS Television Network. "THE LATE LATE SHOW" is executive produced by Peter Lassally. On the Web: www.cbs.com/latenight/latelate/.
Folkmanis® Puppets who have appeared on
The Late Late Show with Craig Ferguson
:
Sid - Standing White Rabbit



Sid the foul-mouthed bunny from North London is a Folkmanis® Puppets Standing White Rabbit Hand Puppet.

The Standing White Rabbit puppet features movable front paws and mouth, stands 17" tall, is recommended for ages 3 and up. Click here to watch video of Craig "working Sid."
Unicorn Stage Puppet



Everybody's favorite Scottish Unicorn is a Folkmanis® Puppets Unicorn Stage Puppet.

In fairy tales and mythology, royal gardens and coats-of-arms, the unicorn represents a tribute to and a yearning for goodness. This fantastic UNICORN STAGE PUPPET is designed with deep blue eyes and a sparkly white plush.
Kronos - Long Legged Monkey Hand Puppet



Kronos King of the Monkey People is a Folkmanis® Puppets Long Legged Monkey Hand Puppet.

You may not be able to sit in the lotus position but this long legged monkey can. With hugging arms, soft fur, and a working mouth, this monkey will awaken the joy in your heart.
George - Snail Hand Puppet



The snooty French Snail, George is a Folkmanis® Puppets Snail Hand Puppet.

He may be slow, but at least he's not slimy! This expressive Snail puppet, as well as being soft and cuddly, also has workable horns and mouth. With these features, he can show surprise, remorse, joy, dejection, and numerous other emotions, and he also retracts into his shell if things get too overwhelming.
Pig Hand Puppet



Flaubert, and a frontrunner in the "The Late Late Show's" puppet popularity contest is a Folkmanis® Puppets Large Pig Puppet.

With its smiling face and curlicue tail, this pig is a real Babe! While its pot belly rests on your arm, manipulate the mouth to help it sing along to all your favorite barnyard tunes.
T-Rex Stage Puppet



Bruce the T-Rex is a Folkmanis® Puppets T-Rex Stage Puppet.

This "tyrant king" of the giant lizards features scaly green stretch velour fabric with movable arms, tongue and realistic, soft plastic teeth. He'll be the terror of the toy chest when you animate the massive jaws of the mighty 'Rex.
Clam - Scallop Hand Puppet



Here's what Craig had to say about the Folkmanis ® Puppets Scallop Hand Puppet.

"You're in the puppet factory and everybody's coming up with their ideas for puppets, and you go 'I've got an idea for a puppet!' What is it Scooter? 'Well, what about a Unicorn or some kind of a monkey wearin' a hat?' No! A Clam."