Folkmanis® Puppets in the Community
The Brevard Zoo - Melbourne, Florida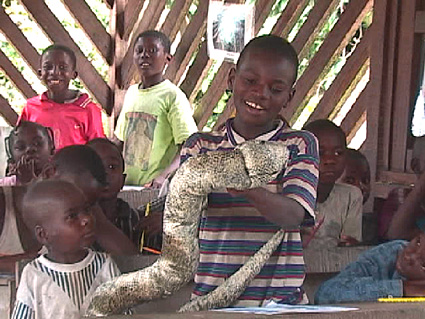 The Brevard Zoo in Melbourne Florida is committed to conservation and research projects throughout the globe. As a part of their commitment, the Brevard Zoo has developed sixteen environmental teaching suitcases for a wide variety of projects, see list below. The suitcases are used in community schools, villages and wildlife sanctuaries. The puppets created by Folkmanis are an integral part of each suitcase. Currently the Brevard Zoo is creating three additional suitcases for ape sanctuaries in Africa. If you would like more information about ape sanctuaries and the bushmeat crisis please see the following website: www.bushmeat.org.
Environmental Education Suitcases Developed for In Situ Projects:
Kakamega Environmental Education Program: Kenya
Forestry Project: Dominica
Cheetah Conservation Fund: Namibia, Botswana, Kenya
Club Ebobo: Republic of Congo
Limbe Wildlife Centre: Cameroon
CERCOPAN Primate Center: Nigeria
Lolo ya Bonobo Sanctuary: Democratic Republic of Congo
Sea Turtle Preservation Society: Brevard County Florida
USFWS/Carr Refuge: Florida
Peruvian Centre for Cetacean Research: Peru
Snare Removal Project: Zimbabwe
For further information see: www.brevardzoo.org or www.colszoo.org.